Now, we're even more dedicated to building amazing stuff for you!
We recently completed our Series A funding round for $4 million from an amazing group of investors.
It is these investors who are going to help take us to the next level and build products for the next wave of cryptocurrency users.
It's no secret that accessing the blockchain is a less than ideal experience. And that's what we're here to change. We're proud of the products we've built—we've completely re-written the codebase in React/Typescript, added a ton of new features, and launched the fully functional MyCrypto Desktop App. We also launched an open-source Monero explorer called MoneroVision—but that's not enough.
These steps have laid a strong foundation for the MyCrypto platform. We need to prepare for the next wave of cryptocurrency users entering the space and help ensure they can interact with the blockchain, play with dapps, trade their coins and tokens, and do it safely, securely, and with confidence.
Who is this amazing group of investors?
Where do we start?
Leading the round is Polychain Capital. Polychain has immense knowledge and background in the crypto space and, through their expansive portfolio, understand the unique challenges facing crypto-companies as they grow. On top of that, Olaf Carlson-Wee's previous experience at Coinbase has proven to be especially helpful in helping us build a robust customer support team and ensure our systems and processes are ultra-secure.
Boost VC (with Brayton Williams and Adam Draper and Maddie Callander) have been staunch supporters and always go the extra mile to make sure we are are heading in the right direction. Their accelerator has been the temporary home of many of our friends in this space, including Aragon, Etherscan, and Wyre.
ShapeShift is one of the most easy-to-use products in this space and has found the magical sweet spot between decentralized and simple. We look forward to learning from their dedication to security, decentralization, and building amazing cryptocurrency products.
Ausum Blockchain Fund, founded by Bá Minuzzi and Jeremy Gardner, bring their vast expertise inside and outside this space and will be helping us grow and ensuring no obstacle holds us back.
And let's not forget individuals in this space that simply can't stop dominating: Mainframe's Mick Hagen, Chance Du (Coefficient Ventures), early Dropbox employee Albert Ni, and Earn Co-Founder Lily Liu.
We are extremely excited to welcome them to the MyCrypto family! Their visions aligned with ours in a big way and they have so much valuable experience and perspective to offer.
What's next?
Since our inception, we've built what the community has asked for, and we will continue to do that. There are a lot of things we can build — a lot of things we want to build. Right now, we're going to focus on making crypto easier to get into. We are going to make our interface less confusing, abstract away information that doesn't need to be upfront, and make the experience frictionless.
"The cryptocurrency market is always changing and evolving, which can make navigating and understanding it difficult and overwhelming for both new and seasoned users," said Taylor Monahan, Founder & CEO of MyCrypto. "We're dedicated to designing an experience that can further simplify how people can access and store cryptocurrency and are thrilled to see the overwhelming support we've received from our partners, investors, and community."
It's all about the people. People like our investors, the people on our team, people like you, and people who don't even know what cryptocurrency is yet. We can't wait to show you what we have in the pipelines. Stay tuned and much love from the MyCrypto team!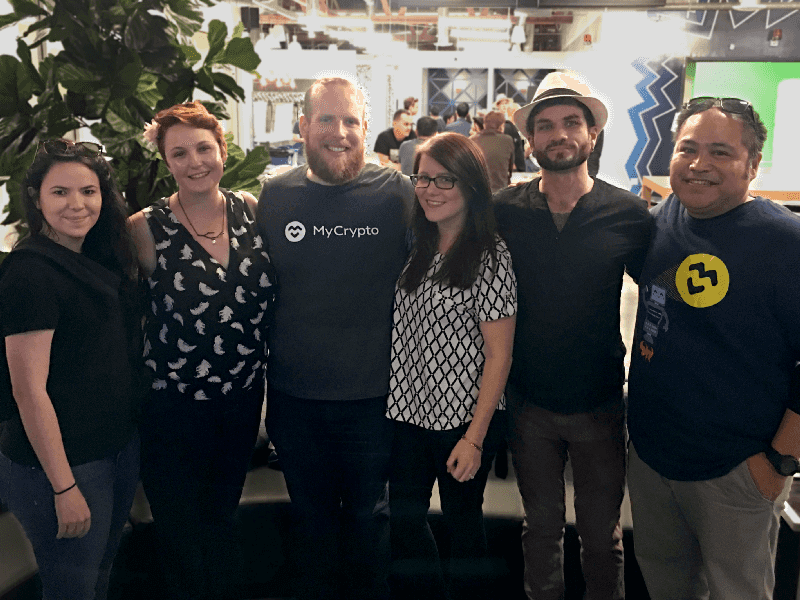 PS: if you want to join our amazing, remote team, pitch yourself at jobs@mycrypto.com. We are specifically looking for amazing product people, designers, user experience folks, and (obviously) React/Typescript engineers. Crypto experience is not required. We want people on our team that are global and diverse and bring unique experiences and expertise with them because the perspectives of everyone are needed in order to make the products, solutions, and communities accessible and appeal to everyone.
---
Talk To Us & Share Your Thoughts