We're fighting a war against scammers.
The scammers who abuse decentralization to take cryptocurrency from others. The scammers who deploy their tricks of the trade to make victims out of honest people.
How are we fighting this war? With CryptoScamDB. CSDB is a database of known scams in the cryptocurrency industry. Currently it houses over 7000 scams and it grows each day. The list is then used to protect you and millions of others.

Everyone has the power to report a scam on CSDB - if you see something, report it!
Our goal is to help make this industry safer, and every day we work towards that goal.
How can you help make this industry safer?
Report a scam address, website, or extension
Every verified scam gets added to our database. This database then gets fed out to MetaMask and a few other projects like Nansen, Chainalysis, and Elliptic who utilize our database to protect all their users.
That's right, MetaMask has five million users and each and every one of them is protected by CryptoScamDB.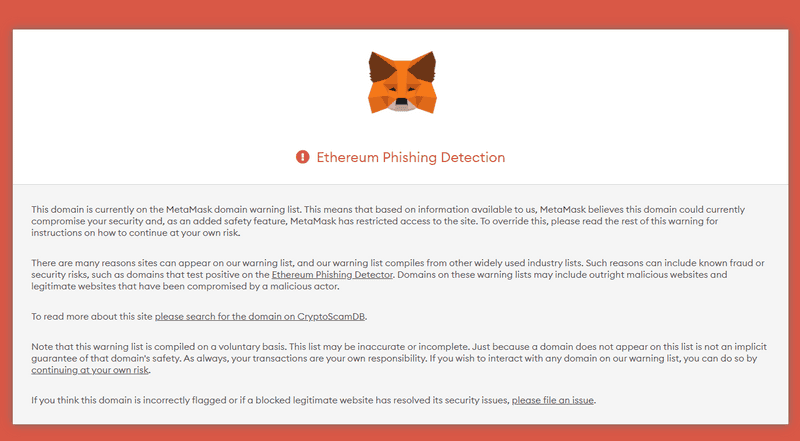 This means that if you report a scam and it gets added to the database, you as an individual have contributed to protecting millions of users. That's amazing.
Contribute to our Gitcoin
CryptoScamDB accepts contributions through Gitcoin and also through regular donations. Contributions are never required and we'll do the best we can to keep this industry safe regardless. If you do wish to contribute, thank you.
Every contribution means a lot to us as it helps us keep doing what we're doing and signals the desire to have a safer industry.
Gitcoin is currently in an active matching round, which means each contribution goes much further than normal. If you wish to contribute, now is the time!
What is CryptoScamDB working on?
We are currently rewriting CryptoScamDB's backend to be more easily maintained, documented, and with a suite of test cases. The new codebase aims to be cleaner with various subroutines run to give more up-to-date data on a specific scam, and make it available to our frontend UI and API.
Once we've published the updates under the CryptoScamDB namespace on Github, it will be open for pull requests!
We're aiming for an MVP of this within the following months, with a soft launch as soon as we have all the endpoints to support the current UI.
The History of CryptoScamDB
CryptoScamDB had humble beginnings as EtherScamDB, and EtherScamDB had even more humble beginnings as a basic spreadsheet.
Crypto is rife with scams, unfortunately, and has been for many years. Back in 2016, our CEO Taylor started up a spreadsheet to document the known ones. By mid-2017, that spreadsheet had over 2,000 entries and we launched EtherScamDB to formalize the information into a proper database.
In July 2019, CryptoScamDB was born. The name changed from EtherscamDB to CryptoScamDB because it now tracked more than just Ethereum - scams from many other chains, including Bitcoin, are able to be reported.
Talk To Us & Share Your Thoughts